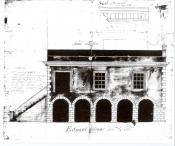 Tref fasnach brysur oedd y Bont-faen yng nghyfnod Iolo. Cadwai Iolo
siop lyfrau a groser
yn y dref a chanodd sawl cân i'r trigolion, gan gynnwys
cerdd
am ei fusnes ei hun fel siopwr.
Ar achlysur
canmlwyddiant
ei farw ym 1926, codwyd cofeb i Iolo ar safle'r siop yn y dref. Iolo hefyd biau'r cynllun ar gyfer gwella neuadd y dref.
Cerdd gan Iolo am ei siop lyfrau a groser yn y Bont-faen
1.
At Cowbridge the name of Ned Wiliams appears,
A shop-keeping Bard, having choicest of wares,
To those that have money, be this understood,
Ring the Bell at his door, he sells ev'ry thing good.

2.
He's a Jack of all trades, many labours he plies,
Hopes that above want he can honestly rise,
Fair dealing he loves, is no vender of trash,
Come and see what you want, and exchange it for cash.

3.
Teas, the most fragrant assortments are seen,
Here's black and all blacks, here's the finest of green;
Your favours, ye fair, let your Bard thus invoke,
Here's chocolate, coffee, with Fry's patent coke.

4.
Here to furnish high flavours are all sorts of spice
Of Liberty's growth, fine American Rice,
All that makes a good pudding, or well-season'd pye,
May be found at this shop do but taste them and try.

5.
Here are currants and raisins, delicious french plumbs,
The Christian free sugar from East India comes,
And brought from where Truth is not yet in the bud,
Rank Church-and-king-sweets for the lovers of blood.

6.
Here are hats of all sorts, good as ever were seen,
One guinea, one shilling, all prices between,
And fearless of spies and th'Informer's fell traps,
He'll soon become dealer in Liberty caps.

7.
He's a vender of books to the scholar who lacks,
Sells pens, ink, and paper, good wafers and wax,
English, Welsh¸ and Scotch music to charm ev'ry breast
And sulphur for those who Scotch-fiddles detest.

8.
Th'abbettor of slav'ry the Church-and-king Turk
Here may be supplied with the quibbles of Burke
Cowper's king-flogging Talk, how delightful the strain,
And for lovers of Truth, Rights of Man by Tom Paine.

9.
In the Bardic profession a thousand fine things,
New Liberty Sonnets, new Satires on kings,
And, for those who can amorous ditties rehearse,
New carols of Love in sweet pastoral verse.

10.
'Tis a shop where the works of best authors abound,
But those who read reason too seldom are found,
Yet to please the sweet Ladies, and give them their ways,
Here are sold the most moral of Novels and plays,

11.
To journeymen Parsons, and all that are Poor,
Some credit is given, a fortnight or more,
But ye friends of the Bard, he's himself a poor-man
Keep conscience awake pay as soon as you can.

12.
Bumbailiffs, Attorneys, vile Scoundrels adieu,
Whoever pays not will be nothing to you,
I'll never, tho sorest misfortunes depress,
Wring one drop of blood from the soul in distress.

13.
Come all to this shop where good usage you'll find,
Most anxious attempts to suit every one's mind,
Attendance at call, the most humble regard,
For all favours due thanks from Ned Williams the Bard.
(NLW 21410E, rhif 29a)